Shenmo Entrepreneurship Program
" This is an entrepreneurship opportunity for children education program which knows no borders.
It originated from a calculation tool with a history of over 2,600 years in China: the abacus; and an international education institution that has been in development for 22 years: Shenmo Education.
From this program, you can get a new skill, abacus mental math, a course that children from any country can learn, and also a "toy" that can make kids fall in love with math.
You can learn how to grow from a teacher to a principal, and eventually set up a school of your own in your country to benefit your hometown.
And you can join a loving "global family", meet educators and children from all over the world, and improve each other through mutual help.
If you have a little bit interest, at the online meeting on November 13th, Shenmo are here waiting for you!"
About the Event
Since the meeting is online, anyone can participate no matter which country you are in now. And this event is free of chargefor international students!

Theme: Shenmo Entrepreneurship Program Introduction and Exchange Meeting
Host: Beijing Shenmo Education Institution
Time: 15:00-17:00 , November 13 (Beijing Time)
Platform: VooV Meeting
Language: English
Participants: International students in China
1) Currently studying in China or living in China
2) Graduated from Chinese university and have returned to hometown
3) Students who can communicate in Chinese are preferred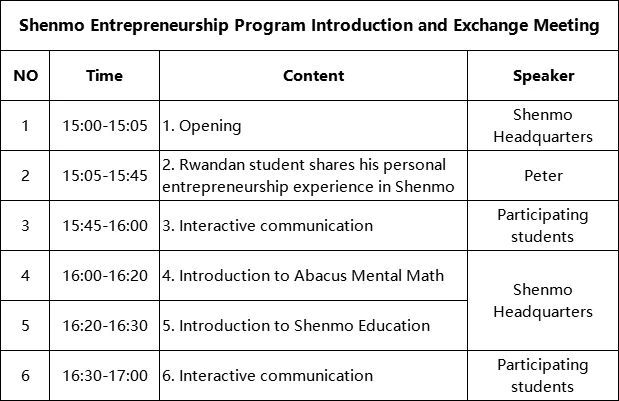 If you are currently living in China, Shenmo will send you an abacus as a gift after receiving your registration information, so that you can physically experience the abacus mental math.
How to Participate

Scan the QR code below and fill in the registration form:
Deadline for registration: 24:00 on November 8

(The number of people in the meeting room is limited, please register as soon as possible)
Students who do not have the VooV Meeting App can search "腾讯会议" in your App Store ( search "VooV" if you are out of China) and download it on your mobile or computer.
Shenmo will conduct a test of the Tencent Meeting before November 13. The test time will be notified separately to ensure that everyone can attend successfully.

Contact Information

If you have any questions regarding the meeting, please contact Shenmo Education International Department:
Contact Person:Crystal Ren
WeChat ID: 15210938612
Tel: 15210938612
Email: renminmin@shenmo.com
See you online!