On December 11, the First Shenmo Online Abacus Mental Math Training for International Students in China successfully concluded. In this training, more than a dozen international students from different countries gathered again online to participate in the four-day abacus mental math training organized by Shenmo Headquarters, systematically learning abacus mental math skills and educational concepts. It was a further in-depth training after the previous two online exchange activities.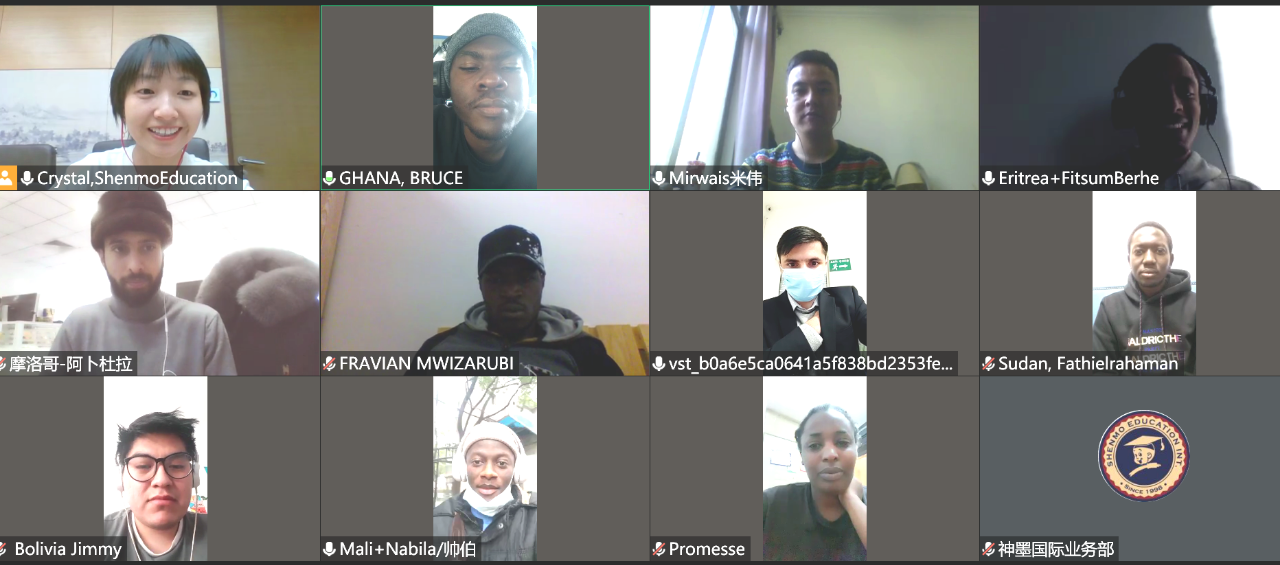 During the training process, the students actively participated in online practice every day, completed offline homework, and finally obtained certificates after the final test. The four days of focused learning and experience made every participating student gain a lot. Some students shared their learning insights and gains, and expressed their expectation to participate in Shenmo's next-step exchange activities.
Final test 珠心算考核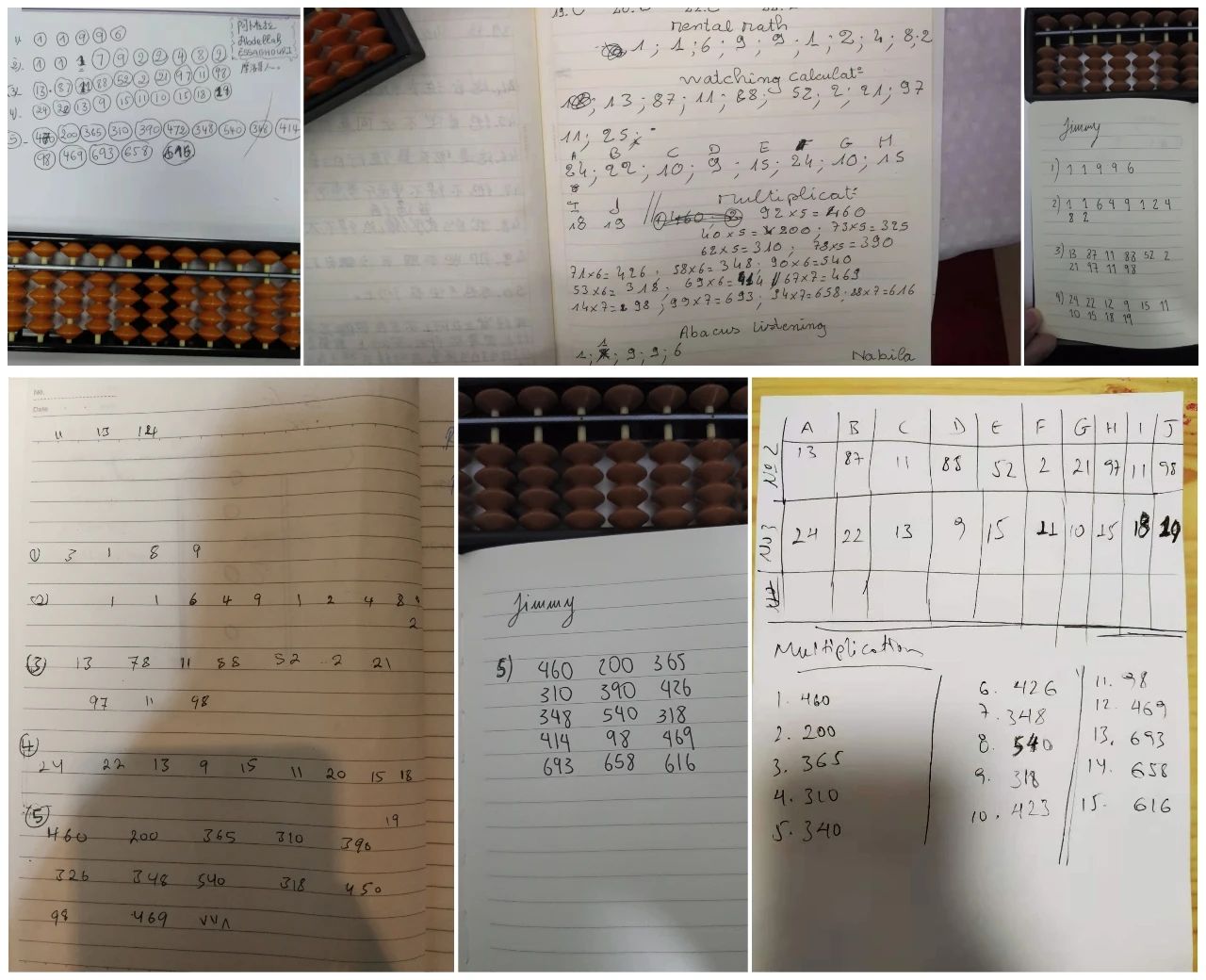 Students with digital certificates 学生手持电子证书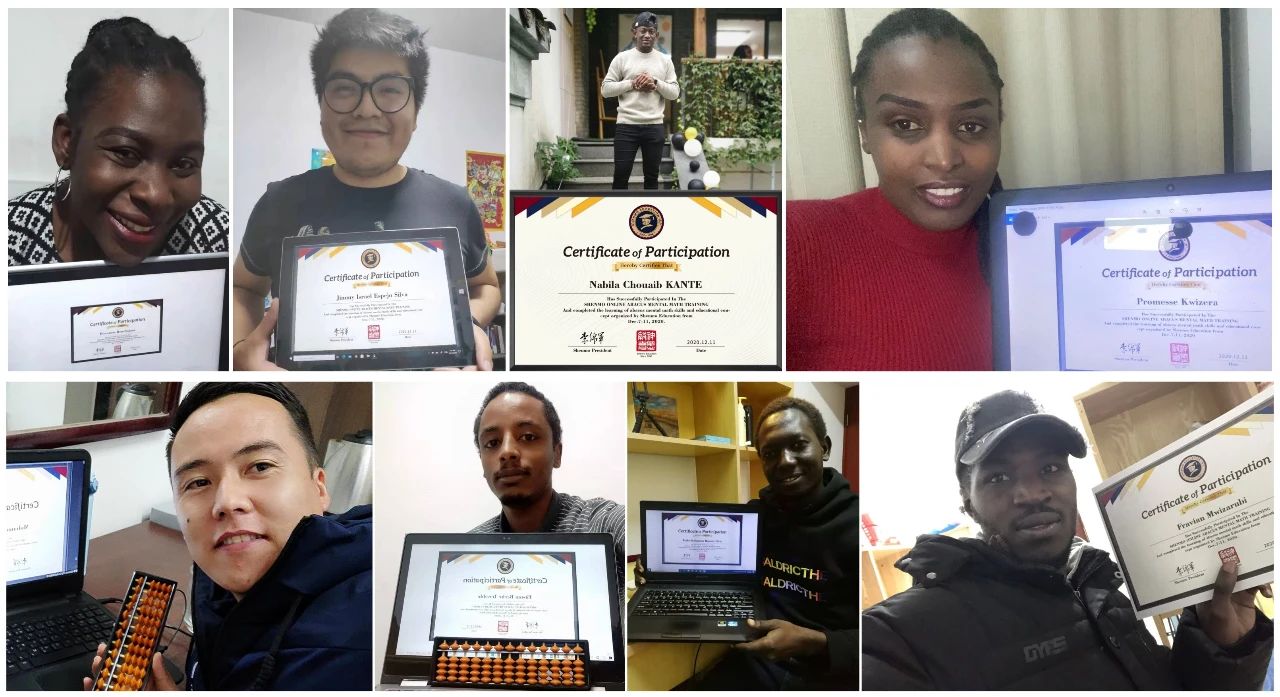 Learning gains 学习感言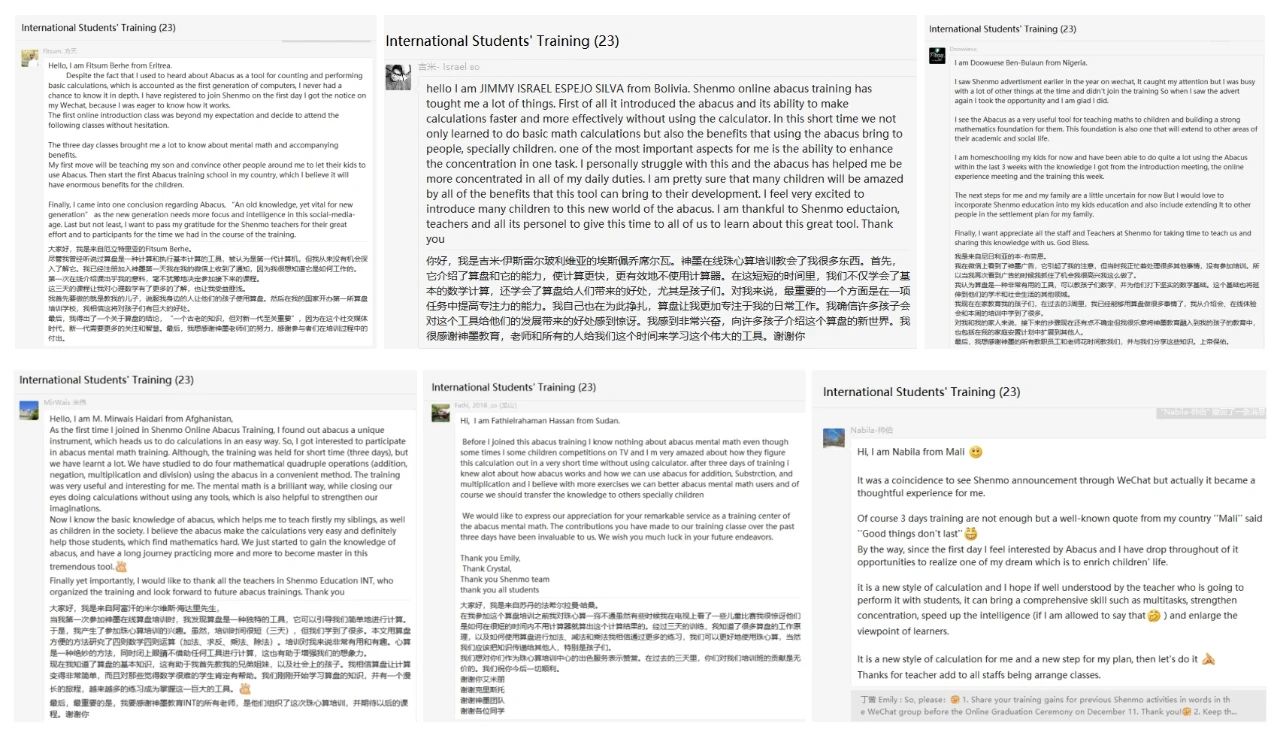 Since mid-November, Shenmo International Business Department has successfully held three online activities for international students, with more than 30 participants from more than a dozen countries including Morocco, Sudan, Eritrea, Pakistan, Bolivia, Mali, Afghanistan, Bangladesh, etc.
自11月中旬至今,神墨国际业务部面向留学生的线上活动已成功举办三场,共有来自摩洛哥、苏丹、厄立特里亚、巴基斯坦、玻利维亚、马里、阿富汗、孟加拉国等十几个国家的30余位留学生参与其中。
What is abacus? What is abacus mental math? When every student who signed up the first online exchange meeting in China received the exquisite abacus presented by Shenmo, a question mark appeared in their minds. With such curiosity and questions, the international students and Shenmo jointly embarked on an unforgettable journey of Chinese abacus culture.
什么是算盘?什么是珠心算?当每一位受邀参会的在华留学生收到神墨赠送的精美算盘时,问号便在他们脑海中产生。带着这样的好奇和疑问,留学生们和神墨共同开启了一段难忘的中国珠算文化之旅。
The content of the activities is advancing step by step. Through three sessions of "entrepreneurship exchange meeting-abacus mental math experience class-abacus mental math training", international students are guided to deepen their understanding of Shenmo and abacus mental math education.
此次活动在内容设置上层层递进,通过"创业交流会-珠心算体验课-珠心算培训"三场会议,引导各国留学生不断加深了对神墨和珠心算教育的理解。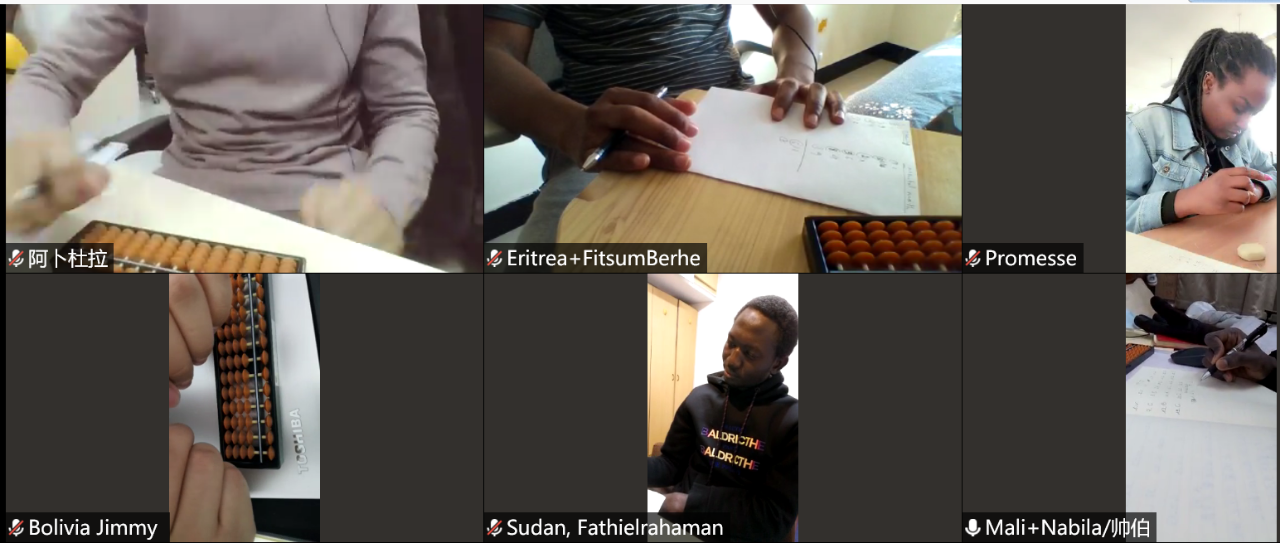 The online communication during the epidemic brought each other closer together through an abacus in everyone's hands. The international students not only experienced the charm of Chinese abacus culture, but also learned more about Shenmo, established a deep friendship with Shenmo, and generated the ideas and beliefs to let abacus mental math education help more children in the world . An international student expressed his opinion on abacus when sharing: "Abacus is an old knowledge, yet vital for new generation.
"疫情期间的线上交流,通过每人手里的一把算盘,拉近了彼此的距离。留学生们不仅体验到了中国珠算文化的魅力,也对神墨有了更多的了解,与神墨建立起了深厚的友谊,在内心种下了让珠心算教育帮助世界更多孩子的想法和信念。有一位留学生在分享时这样表达自己对珠算的看法:"珠算,是一个既古老,又对新一代人有着鲜活力量的知识"。
Abacus belongs to not only China, but also the world. For a long time, Shenmo has been committed to strengthening connection with international students in China, and continuously promoting the abacus culture to the world. At the same time, Shenmo has already promoted many international students to realize their entrepreneurial dreams to open Shenmo schools in their countries, and bring wisdom and joy to children in their own countries.
珠算,是中国的,也是世界的。长期以来,神墨一直致力于同在华留学生加强链接,不断将珠算文化推广到全世界。同时,神墨也已推动不少留学生实现创业梦想,在他们的国家开办起了神墨学校,为自己国家的孩子们带去智慧和欢乐。
The ancient abacus allows Shenmo to build a bridge between Shenmo and the world. Shenmo people are willing to work with more international friends to let the abacus shine in the light of the new era and create splendid scenery in the world.
古老的珠算让神墨与世界之间架起一道桥梁,神墨人愿与更多的国际友人携手,让珠算绽放新时代的光芒,为世界增添绚丽的风景。